News Archive up to 2022-10
2022-10-24
Halloween fun with our latest update of immerGallery 1.1.2 (full version only):
We added a special environment to enjoy your Halloween images

shown

on the cinema wall.
We present that new environment in our

new Halloween immersive gallery about the Little Pumpkin Ghost at the spooky Castle Wolfstein

, Germany. Various cool VR180 and 360 images guide you through the experience!
We added a

falling autumn leaves environment

which can be used for all image formats to bring you into the mood of a nice walk outside in late October.
Various

stability fixes, performance and memory optimizations

.

Fixed UPnP bug and improved scanning speed

.

Improved UI / UX

: when watching favorites, you can now remove a single favorite and stay inside the playback mode. Changed help dialogue to send a message to us developers to use the built-in HMD keyboard. Tweaks for the timing of enabling and disabling favorites. Updated folder icon (credit: flaticon.com).
Improved support for Insta360 X3 and Insta360 RS One

jpg files.
2022-09-29
immerGallery 1.1.1 and immerGallery Demo 1.1.1 released today!
At the same day of the release of the Walkabout Minigolf™: 20,000 Leagues Under The Sea DLC, we release our

new underwater environment

that you can use to view your low field-of-view 2D and 3D images!
We have

two new, free exciting galleries

:
Underwater 3D World

: 10 great 3D diving photos from Claudia Hirsch, captured in Hurghada, Egypt

Fan Gallery

Walkabout Minigolf™

: 20,000 Leagues Under The Sea:

we take a look at the brand new screenshots from the DLC inside our underwater environment. 2D, but still very immersive.
Smaller UI changes and fixes: fixed a bug where after downloading a gallery it didn't show up before refreshing. After the download, there is now an "Open" button to quickly bring you to the new content. Deletion now has a dialogue to confirm deleting an image or folder.

Performance optimizations for users with lots of deep folders and files
2022-09-28
At the recent XR Week 2022 in Stuttgart, Germany from Virtual Dimension Center (VDC), we had a great time showing our virtual reality image viewer immerGallery to the audience. Many thanks to the organizers, specifically Ioannis Alexiadis for his support and the interested booth visitors.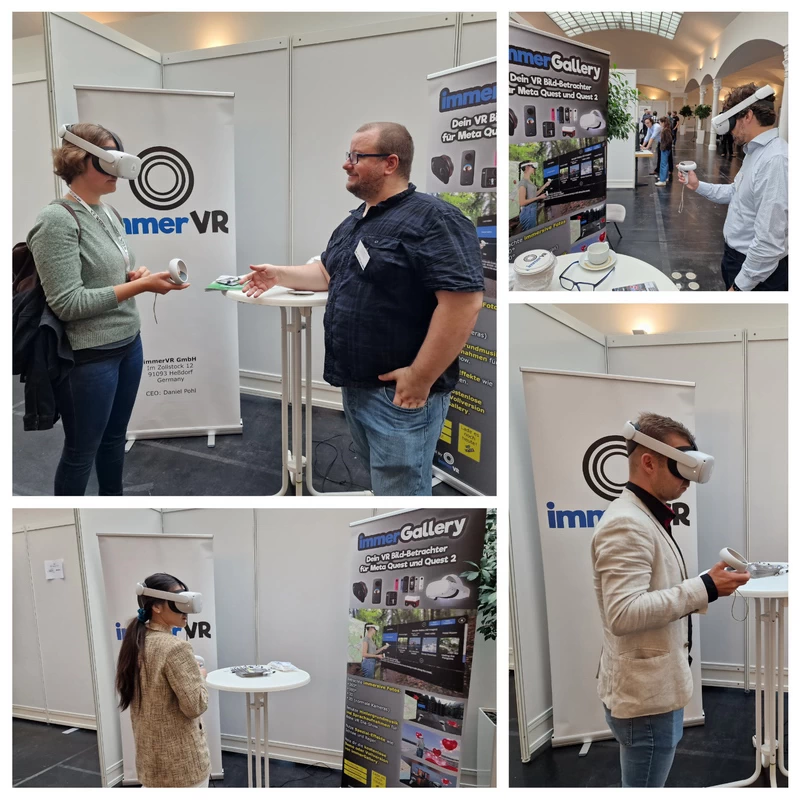 2022-09-12
Our biggest and maybe most important update so far! The version 1.1 of immerGallery is out!

Added "Download Gallery" section. In the full version of immerGallery,

you can download zipped immersive galleries

through the URL input field. We have quick prefixes for URLs on Dropbox, bit.ly and others - just press the button with the http-prefix to toggle. Password-protected .zip files are supported as well.
In the "Download Gallery" section we have

three new free galleries

for you to watch:
An evening and night at the Nuremberg Volksfest

: watch 30 immersive images, most of them captured with the professional Canon RF 5.2mm VR180 stereo lens. Music and voice-overs tell the story of this evening and night.

Drone Panoramas

: Many thanks to

Marton from relaxvideo.hu

. Amazing 360° mono drone captures show you different places in Greece, Croatia and Hungary

QooCam EGO hacked for 3D-360

: Many thanks to

Dean Zwikel

! He used the low field-of-view 3D consumer camera QooCam EGO and made a series of shots to combine them to 3D-360 images. Watch amazing images from parks in the US!
We

significantly improved the displayed image quality

of VR photos. It almost feels like your HMD was upgraded to a higher resolution!

Relevant jpg EXIF metadata is shown

when the menu is open that can help you duplicating the camera setup of the displayed photo, e.g.: Canon EOS R5, RF5.2mm F2.8 L, 1/320 sec, f/3.5, ISO 100
Use

pitch rotation to watch your images while laying down

on your sofa through the settings dialogue.
To handle the increasing disk usage after many downloaded galleries, we now have an

option to delete downloaded galleries

through the trashcan icon. This only works for the unzipped galleries right now, but we might extend this to local galleries in the future.

Performance-optimizations for loading very high resolution content.

Improved automatic format detection for 3D-360 images.

Improved UPnP handling for the case where more than one UPnP server is within the same network.

Smaller UI improvements
Lastly, there is also a significant change for immerGallery Demo: Before, your own images could only be shown in the full version of immerGallery. As we received feedback from our users that they would like to test if certain images would load in the full version, we are now showing the first 10 images located in the /Pictures folder as a free preview. immerGallery Demo also contains the three new downloadable galleries.
2022-09-10
In this great article from Benjamin Danneberg on MIXED, we talk about the vision and future of our virtual reality photo-metaverse app immerGallery.